Post by FUBeAR on Oct 18, 2018 12:24:49 GMT -5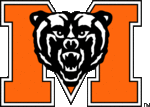 are
our quarterbacks just like the 2 guys at Mercer are both Mercer's quarterbacks. But just like at Mercer, if healthy the 1 guy would be playing most of the snaps.
The spark thing, the starting Tyrie as a surprise, etc. is all a nod to how Adams is effected by the physical issue. You don't go from playing like he did against Furman to looking like he did against Samford or Chattanooga without it being a physical and mental issue due to whatever the injury is.
Now if we were going to switch to a pro-style offense, go with 2 backs, etc. there could very well be a controversy. And there are people in WCU-land who are ready to do it. But with the current scheme, Adams is the one who would give Western the best chance to win.  The move to Jones has happened in both games because Adams has coughed the ball up that I think is DIRECTLY tied to his injury.
Nah, I'm sure Andy, Barney, and Floyd know more about what's going on in some hick town in NC than FUBeAR does. But ol' FUBeAR has been listening very closely to (and making a living from) what people say & what they DON'T say for a whole lotta lotta years.
You're right though...before Mr. Adams was battered & beaten by the Paladins, the only QB controversy existed at WCU was on the WCU message boards & in the minds...and probably on the lips of some, let's be kind & say, some of the less 'progressive' WCU fans. And, maybe, there still wasn't one after the Samford game, but Coach Spier has proclaimed him 'healthy' ...and, now...after the Chatt game, based upon what I hear (and don't hear) from Coach Spier on this video...you have one now...whether you want to acknowledge it or not.
ADDENDUM: 
In fact...mark this down, so you'll remember where you heard it 1st...FUBeAR HOT TAKE- If Mr. Adams graduates from WCU before next Fall, he won't be playing in Cullowhee next season. Well, actually, he may, but he might be wearing a different jersey. Depending on the SoCon Intra-Conference Transfer rules, I could see him playing as a G-TR for another SoCon Team. Let's see...is there another SoCon Team that runs a HEAVILY QB-centric Offense that is losing their Starter & has no heir apparent? Maybe, a school that has a history of taking Transfers? I can certainly think of 1. How would Mr. Adams look in Red & Blue? Furman could be a possibility as could ETSU, but I think Homewood, AL could very well be Mr. Adams' residence next Fall. Or he may find an FBS program that meets those criteria. Either way, when he walks off that field in Chapel Hill on November 17th, be sure to wave good-bye.