Post by jackal on Dec 6, 2019 11:55:02 GMT -5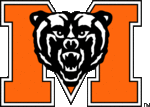 Also worth noting that Mercer's co-recruiting coordinator, Carter Barfield, is a former Furman player and was on the roster while Cronic was a coach with the Paladins 15 years ago. In fact, I think Cronic may have been Barfield's position coach. So, they have a history.
Without any sort of insight, my best guess on December 6 is that Cronic's the guy, he'll retain his former player, Barfield, and Barfield is the guy currently tasked with trying to hold the recruiting class together.
I was thinking about some of this last night, Jackal. I think you are spot on & great job of sleuthing on the Twitters. Of course, him following them could also mean that he sees them as opportunities for the L-R Bears to make a 'steal,' but I think your conclusion is more likely.
Also want to add a couple of thoughts I had about Coach Barfield. If there is 1 position group in which Mercer has shown consistent excellence, it's the Running Backs. From Payton Usher to Alex Lakes to Tee Mitchell to Tyray Devezin (and almost all of their backups), this group has been exceptional. They run hard, break tackles, don't expect to go down, don't fumble, catch the ball out of the backfield, and block (fairly) well. Coach Barfield has been here since Day1 &, if I'm not mistaken, his wife is from Macon.
Regardless of the Head Coach ultimately hired, he should want Coach Barfield on his Staff & Coach Barfield should DEFINITELY be given an opportunity to interview for a role to remain part of Mercer Football...if he wants to.
You are correct. His wife is from Macon.
Looking back through the archives, Mercer announced Barfield's hire in July 2012, which seems unbelievable that is was that long ago.
If it is Cronic, it'll be yet another odd twist in Bobby Lamb's career. Two head coaching jobs in the same conference and replaced by his former assistants.